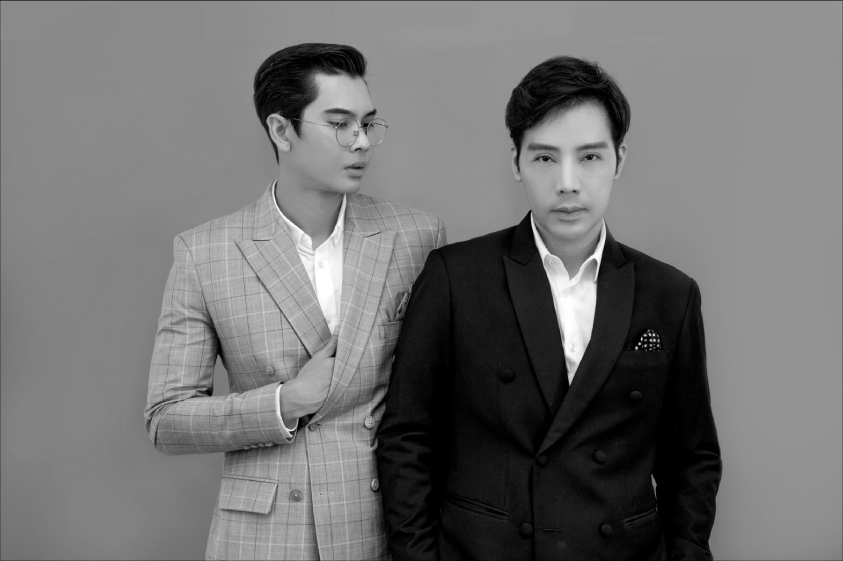 About us
INSOMNIA GROUP
INSOMNIA GROUP was founded in October 2013 (Bangkok, Thailand) from similar childhood passions of the two founders, Charn Chanon and Varayu Jitparpai, in various art forms, business management, to fashion. Together they team up their talents to create a valuable 'international beauty' for women and men. The two strikingly bring their passion, love, and knowledge in fashion to establish a Thai fashion brand at an international standard. Experienced in strategic management and integrated marketing communication, Charn Chanon combines his knowledge with Varayu Jitparpai's profession in architecture and structural artistry to create exceptional designs.
Their knowledge, despite completely different, has strengthened the brand to a perfect balance. This makes INSOMNIA GROUP, consisting of INSOMSIA BY VARA, REFLEX ANGELA and C'V HOMME, become strong Thai fashion brands in the market under INSOMNIA BANGKOK in the 'A Dynamic Multi-Brand Store' concept, offering all brands in the group in one store. This is another challenge of INSOMNIA GROUP in getting the brand ready to become the top quality brand of Thailand and Asia.
A lady's grace and a gentleman's profoundness in clothing that anyone can stand out in their own way without having to keep up with world trends, as well as clothing designs that allow a person to mix & match in various styles, are the main approaches in creating every collection. INSOMNIA GROUP aims to offer unique creations with preciosity to every detail; from finding inspiration, planning, sketching, quality material selection, pattern creation, to sewing by skilled technicians. Before launching each collection, we need to make sure that the creations must be the best. In addition to ready-to-wear, custom-made service is also provided to match an individual's body, such as daywear, evening gown, bridal dress, office wear, groom suit and suit for men etc.
INSOMNIA GROUP is committed to creating a brand through borderless communication: updating each collection with different dimensions, presenting ideas through still visuals and animations, and improving order channels to be convenient to online customers in website, Facebook and Line.
INSOMNIA GROUP: Strives to produce quality products with care at every step. Start from finding creative inspirations, to systems oriented planning, and searching for top quality ingredients then handing out to professional technicians in each branch to sew and embellish each item to perfection. Custom-made service is also provided to fit a customer's specific body, as well as our friendly staffs' service. These are the devotion of hard-working from every department in the organization that reflects quality in all aspects and ready to drive the brands in INSOMNIA GROUP to be internationally recognized.
INSOMSIA BY VARA: Presents the simple-yet-elegant appeal through shapes that emphasize the gracefulness of one's body; reflecting the hidden confidential beauty ready to be released. Strengthened with bold graphic techniques that help reveal and conceal certain body parts to reinforce confidence, along with creating volumes which helps reflect a woman's tenderness, finished with various embellishment techniques to fulfill the collection to perfection. The simple-yet-elegant and seductive persona is presented through the brand's main color schemes namely black, white, cream, and beige, which make the collection easily mixed and matched on various occasions, whether working in the morning or joining a party in the evening. These features are what make INSOMSIA BY VARA an exceptional Thai fashion brand.
REFLEX ANGELA: The beauty of a young, cheerful and elegant personality in every manner, presented through the charming beauty of colors that reflect creativity with a unique style. The brand offers items differentiated with solid fabrics and gauze fabrics such as tulle and see-through lace that are designed in appropriate proportions. The unique designs provide a high-fashion craftsmanship experience. The brand is a splendid choice for women with a taste for soft and sweet colors so that they can express their inner self more than ever from morning to evening, from daytime office wear, eveningwear at night, to bridal gowns. It is no surprise that REFLEX ANGELA is able to win all girls' hearts with ease.
C'V HOMME: The fun-loving personality of a metrosexual man is, as always, still an attractive appeal in the eyes of women. The inner identity is presented through an age-appropriate style that anyone can look cool in their own way. Suit, jacket, shirt, t-shirt, jeans, and slacks are designed to fit with certain shapes that make the wearer confident by concealing concerned body parts and emphasizing the right parts to look elegant in an appropriate proportion, and comfortable in every move. Careful attention to every detail of the sewing process is a design approach that makes C'V HOMME a well-accepted brand and the one to watch.